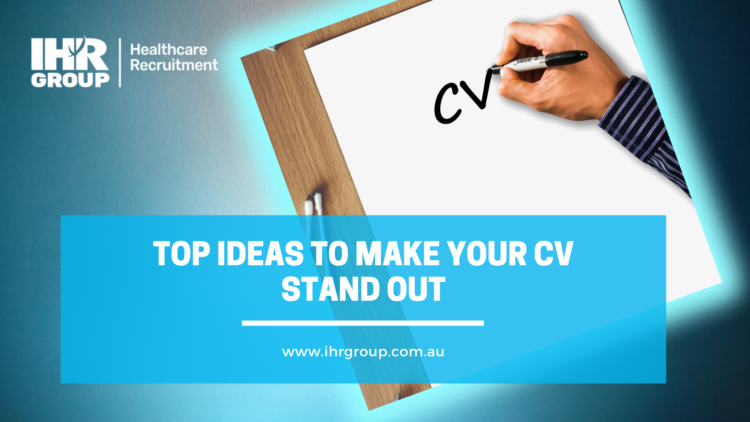 Writing a CV (Curriculum Vitae) can seem like a daunting task. When you consider that on average, recruiters spend only seven seconds looking at a CV, you might think that it isn't worth the effort. However, there are several things that you can do to grab the recruiter's attention in those seven minutes that will make them want to read more. Here are some of the top ideas to make your CV stand out. 
Remember the Basics
Although there are many ways to improve your CV, you also need to ensure that the basics are covered. 
Contact Details – It might sound simple, but you need to ensure that an employer can reach you if they need to. Remember to add a variety of options, including telephone numbers and an email address. Also, remember not to put any email address that might have an embarrassing name.

 

Timeframes – Mentioning your previous roles is important, but you also need to indicate how long you worked there. If you were working at a higher grade, it is also a good idea to mention how long you performed the role.

 

Qualifications – Along with any qualifications that are relevant to the role, you should also add any other qualifications as this shows a willingness to learn and may pique the interest of the recruiter.

 

Skills – Skills are an important part of your CV as it shows the employee what you have done to improve your abilities, and which ones you can bring to the job. Remember to include skills you may have learned outside work as well as those taken at university and college.

 
Begin With an Engaging Summary
Because you won't have much time to make that good first impression, try to start your CV with an engaging summary that will catch the recruiter's eye. You want to list a few of your attributes along with your strengths, but make sure it gets to the point quickly. If you have a summary that is too long, the recruiter will lose interest. 
Another part that you can add is what you want from the new job. Recruiters will often want to know why you are applying for a job, so putting this in the summary will give them a quick answer. 
Use Data to Back Up Your Achievements
Let's face it, people love stats, especially recruiters, because it can quantify how well something is working. When you are compiling your CV, try to find reliable and verifiable data that you can use to back up your achievements. This will be a quick indication of your effectiveness and show how much you have improved in an area you worked in. 
For example, if you were working in sales, try to find out how much sales increased while you worked there. If it increased by 23%, then mention this on your CV. It will be a quantifiable measurement that recruiters can use to judge your past performance. 
Tailor Your CV to the Job You Want
While a good CV will make a good impression regardless of the job you want, it can be even better if you try to tailor it to the role you are applying for. Take a look at the job description and think of ways you can add relevant experience to the CV. Be sure to mention it in your summary as well to encourage the recruiter to read more. 
If you are applying for a number of different roles, then adjusting your CV in this way can be time-consuming. However, it will add another dimension and enable your CV to stand out against the generic examples submitted by other candidates. Plus, if it helps you land your dream role, it will be worth the effort. 
Detail the Growth you have Made

 
Personal development and learning new skills are important to recruiters. They want to know that you will be open to learning and growing in your job role. To highlight this, include new skills you have learned while in other roles. This can include standing in for a manager or working at a higher grade, learning a new computer system, or taking exams to advance your existing skills. 
Adding these to your CV will show employers that you are willing to improve and grow your knowledge. It also showcases your existing talents, which are always important. 
Highlight Networking Skills
Communication skills are something that employers value, so make sure you mention any interactions with others in previous roles or in a hobby. For example, if you have held meetings with other agencies or companies, then mention this in your CV. You can also mention seminars and other events that you have attended, especially if you were able to make big contacts with other companies. 
Do Your Research on the Role
Recruiters will often see people applying for a role that they don't know much about. This can be a red flag to employers because they have not taken the time to learn about the job. Make sure that you stay on top of any news and changes to the industry you want to work for. You can then mention this in your CV, and it will also give you valuable preparation for your interview. This type of research is especially important if you are applying for a role in which you have no experience. 
Use Key Words and Power Words
Some employees use software to filter out CVs that don't mention certain keywords that relate to the job. This means you need to be including experience and other details that can relate to the job you are applying for. 
You also want to add power words that are dynamic and add impact to your CV. Words like 'adaptable,' 'innovative,' and 'implemented' can be used to demonstrate work that you have completed. 
Creating the right CV that works for each job application is essential to making a big impact. It will also help to capture the imagination of the employee within that important first seven minutes. 
Once your CV is ready, don't miss our tips on how to prepare yourself for an interview. Read more about common interview questions and how to manage stress during the interview.
We are constantly listing new medical jobs in Australia and New Zealand on our website. If you see a post you think is suitable for you, please don't hesitate to send us an e-mail or give us a call.