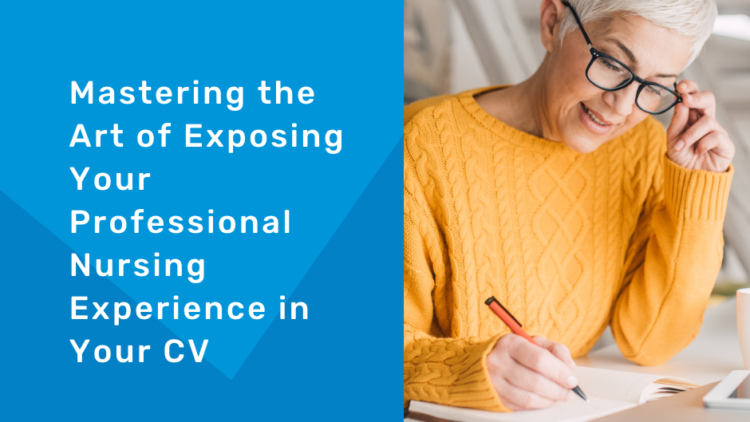 A well-crafted CV can be the key to unlocking new career opportunities in the highly competitive nursing field. Your CV is a powerful tool to showcase your professional nursing experience, skills, and qualifications to potential employers. Exposing your expertise and highlighting your accomplishments can set you apart from other candidates. In this guide, we will explore expert strategies on how to effectively tell your professional nursing experience in your CV.
Start with a Captivating Introduction:
Begin your CV with an attention-grabbing introduction that briefly summarizes your nursing career. Craft a compelling opening statement that reflects your passion for nursing and showcases your years of experience. Emphasize your specialization, certifications, and any unique aspects of your professional journey. By capturing the reader's interest from the outset, you set the stage for a captivating CV.
Example: "Dynamic and compassionate registered nurse with 8+ years of experience in critical care and a passion for improving patient outcomes. Proven track record of leading interdisciplinary teams and implementing evidence-based practices. Specialized in cardiovascular nursing and recognized for achieving a 20% reduction in readmission rates through comprehensive patient education initiatives."
Highlight Your Education and Certifications:
As a nursing professional, your education and certifications play a vital role in establishing your expertise. Create a dedicated section highlighting your academic background, including degrees, diplomas, and certificates. Emphasize any specialized training you have undergone, such as Advanced Cardiac Life Support (ACLS), Paediatric Advanced Life Support (PALS), or specialty-specific certifications. This demonstrates your commitment to continuous learning and staying updated with the latest advancements in nursing practice.
Example: "Education and Certifications:
Bachelor of Science in Nursing, XYZ University

Registered Nurse (RN) Registration, No.

Certified Critical Care Nurse,

Advanced Cardiac Life Support (ACLS) Certification"
Showcase Your Clinical Experience:
One of the most critical aspects of your nursing CV is showcasing your clinical experience. Dedicate a section to outline your previous employment history, including the names of healthcare facilities, job titles, and the duration of your employment. Provide a concise description of each role, emphasizing the scope of your responsibilities and notable achievements.
Example: "Professional Experience: Senior Intensive Care Unit Nurse | XYZ Hospital | 2015 – Present
Led a team of 15 nurses in providing critical care to patients with life-threatening conditions, including post-cardiac surgery and trauma cases.

Implemented evidence-based protocols to reduce ventilator-associated pneumonia rates by 25% within six months.

Collaborated with the healthcare team to develop and implement a comprehensive pain management program resulting in a 30% decrease in patient pain scores."
Highlight Specialized Skills:
Nursing is a multifaceted profession, and highlighting your specialized skills is crucial to stand out. Create a dedicated section to showcase your clinical competencies and technical skills. Include proficiencies such as patient assessment, medication administration, wound care, and any other specialized skills relevant to your nursing practice. Additionally, highlight soft skills such as effective communication, teamwork, leadership, and empathy, which are essential for providing high-quality patient care.
Example: "Skills:
Comprehensive patient assessment and care planning

Medication administration and dosage calculations

Advanced proficiency in cardiac monitoring and interpreting EKGs

Effective communication and collaboration with interdisciplinary teams

Strong problem-solving and critical thinking abilities."
Demonstrate Professional Involvement:
Demonstrate your commitment to professional development by including memberships in nursing organizations or participation in relevant conferences and workshops. Highlight your involvement in professional communities, showcasing your dedication to staying abreast of industry trends and advancements. This demonstrates your proactive approach to enhancing your nursing knowledge and skills.
Example: "Professional Affiliations:
Member, Australian Nursing and Midwifery Federation (ANMF)

Participant, Annual Critical Care Nursing Conference (2019, 2020)"
Quantify Your Achievements:
To make your nursing experience more impactful, quantify your achievements wherever possible. Provide specific examples of your accomplishments, such as the number of patients you cared for, successful implementation of new protocols, or improvements in patient satisfaction. Quantifying your achievements helps potential employers visualize your contributions and the positive impact you made in your previous roles.
Example: "Achievements:
Developed and implemented a streamlined patient discharge process, reducing average discharge time by 20% and improving patient satisfaction scores.

Successfully trained and mentored a team of five nursing assistants, resulting in improved efficiency and enhanced patient care."
Effectively exposing your professional nursing experience in your CV requires careful attention to detail and strategic presentation. By implementing the strategies outlined in this guide, you can create a compelling CV that highlights your expertise, achievements, and dedication to patient care. Remember to tailor your CV to each specific job application and ensure it reflects your unique qualifications. With a well-exposed nursing experience in your CV, you can confidently pursue new opportunities and take your nursing career to new heights.