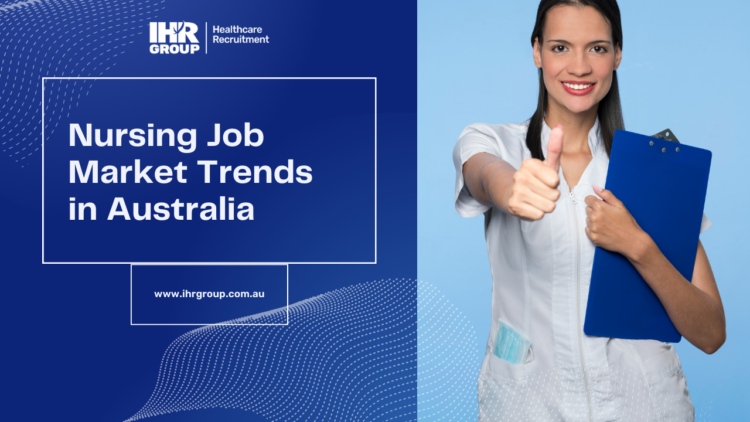 The nursing job market in Australia is a dynamic and ever-evolving field that reflects the changing landscape of healthcare. To excel in this profession, nurses, both aspiring and practising, must be aware of the trends shaping job opportunities and career prospects.
One of the most prominent trends in the nursing job market is the growing demand for nurses with specialized skills. Healthcare facilities now require professionals who can provide expert care in specific areas such as critical care, mental health, pediatric nursing, and aged care. The aging population and evolving healthcare needs have propelled this trend, as patients with complex conditions benefit from specialized care.
Geographic Variations in Job Opportunities
The distribution of job opportunities for nurses can vary significantly by geographic location. Major cities tend to have a higher concentration of healthcare facilities, resulting in a more significant number of job openings. However, there is a growing recognition of the need for nursing professionals in rural and regional areas. Initiatives are being implemented to incentivize nurses to work in underserved communities, offering job security and a sense of fulfilment while addressing healthcare disparities.
Salary Trends and Compensation Packages
Salaries for nurses in Australia have been on a steady rise in response to the growing demand for their services. Many healthcare organizations are offering competitive compensation packages to attract and retain high-quality nursing staff. These packages often include a comprehensive array of benefits such as health insurance, retirement plans, paid leave, and education assistance, reflecting the value placed on nurses in the healthcare system.
Shift Towards Primary Care and Community Nursing
Australia's healthcare system is shifting towards a greater focus on primary care and community-based healthcare services. This transition is creating new opportunities for nurses in settings such as community health centres, general practice clinics, and home healthcare. Nurses with skills in primary care and community nursing are in high demand as they cater to the healthcare needs of diverse patient populations, helping reduce the burden on acute care facilities.
Telehealth and Telemedicine Roles
The emergence of telehealth and telemedicine has introduced novel job opportunities for nurses in Australia. The demand for nurses capable of providing remote healthcare services, teletriage, and virtual patient consultations has surged, particularly in response to the COVID-19 pandemic. This trend highlights the adaptability of nursing roles to emerging technologies, making telehealth an integral part of healthcare service delivery.
Growing Emphasis on Cultural Competence
Australia's culturally diverse population has prompted a growing emphasis on cultural competence within the healthcare system. Nursing job postings increasingly seek candidates who can demonstrate an understanding of cultural differences and provide culturally sensitive care. Nurses with cultural competence are better positioned in the job market, as their ability to connect with and care for patients from diverse backgrounds is highly valued.
Opportunities for Career Advancement
The nursing profession offers a clear path for career advancement. Many nurses start as registered nurses and later pursue further education to become nurse practitioners, clinical nurse specialists, or nurse educators. The nursing job market in Australia reflects this trend, with an increasing number of opportunities for career progression. This not only offers nurses a path for personal and professional growth but also contributes to the overall improvement of patient care.
Nursing Workforce Shortages and International Recruitment
Despite the growing demand for nurses, Australia, like many other countries, faces nursing workforce shortages. Healthcare organisations often turn to international recruitment to fill staffing gaps. This trend creates opportunities for qualified international nurses to secure permanent positions in Australia, bringing diversity and global perspectives to the nursing workforce.
Nursing in Australia is evolving into a more research-oriented and evidence-based profession. The demand for nurse researchers and leaders is on the rise. Nurse researchers are engaged in studies to advance nursing knowledge and improve patient outcomes, while nurse leaders may take on roles in nurse management, education, or healthcare policy advocacy, ensuring nursing's voice is heard in healthcare decision-making.
Aging Nursing Workforce and Succession Planning
Australia's nursing workforce is aging, and as experienced nurses retire, there is a growing need for succession planning. Healthcare organizations are increasingly focused on developing the next generation of nursing leaders. This opens doors for younger nurses to step into leadership roles, take on more responsibilities, and shape the future of healthcare.
The nursing job market in Australia is a dynamic and ever-evolving field, offering an array of opportunities and career pathways. Whether you're a recent nursing graduate, an experienced professional, or an internationally trained nurse, understanding these trends is vital for making informed career decisions.
If you have questions about securing permanent nursing roles in Australia or need guidance on how to navigate the nursing job market, please get in touch with us. We're here to assist you in finding the best role that aligns with your skills and aspirations.